30 Holiday Dress Ideas
Need a holiday dress that's winning for the office party, family get together with the in-laws, new Year's bash or maybe a holiday get away with the significant other? If you wanna make the 2015 Holiday Season's "Best Dressed" list, don't worry. We GOT you! The holiday season is always about tons of sparkle, metallics and glam. Regardless of body type, personal style or dress code for your event this list of 25 holiday dresses covers all the bases. Take a look below at these beautiful dresses ranging across a myriad of styles from sequin bling to classic sophistication to flirty and fun. Click on the pics to shop these looks.
1.Black Floral Lace, Gown with Long Sleeves & Plunging Low Open Back.
2.Purple velvet Mini A-line swing Dress with mesh splicing.
3. Scoop Neck Blue Embroidered Sheath Dress
4.Mesh Sleeve  Black Mini Cocktail Dress
5. Vixen Bombshell Red Boatneck Mini Dress
6. Bell Sleeve Black Dress with Sheer Overlay & Tribal Belt & Open Back.
7. Classic White Tuxedo Dress
8.Sequined V-Neck Gown with Mesh Inserts
9.Gun Metal Sequin Embellished  Crew Dress
10. Plunging V-Front, Floor length Knotted Wrap Dress
11.V-Neck Embellished Emerald Sequin Dress with zippered V-back 
12.Champagne Gold Sparkling Sequin Wrap Dress
13. Black Sequin Mini Dress with Geometric  Cut Outs

14. Navy Jeweled Crew Collar BodyCon Dress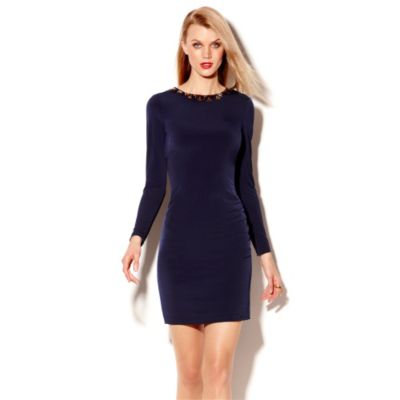 15.Black & Gold Beaded Maxi Dress with Butterfly Sleeves
16. Floral Embroidery Mesh Sleeve 
Plum Dress
17.Red Lace belted Long Dress
18.Silky Fabric Jewel Collar Shirt Dress 
19.Zippered Front V Neck Gray Bandage Dress
20. Blue Lace Splice A-Line Dress
21. Stretchy Jacquard Gilted Chain Lace-Up Dress in Mint
22. Cocktail Length Dress with Pleated Metallic Jacquard Skirt and Bejeweled Waist.
23.Vintage Nude Long Sleeve Floral Print Dress
24. Off the Shoulder, Sheer sleeve, Textured Knee-length Black Dress
25. Black Nude IllusionLace Skirt Set

26. Golden Illusion Bodice Gown with Chain Metal Inserts
27.
 60's Inspired Burgundy Chiffon Dress with Bell Sleeves, Plunging Back
28. Nude Shimmery Chiffon Maxi Dress
29. Classy Tiered Beaded Black Dress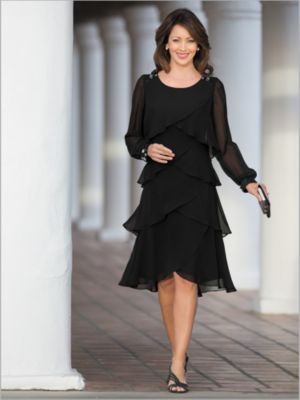 30. Dramatic Pleated Front Black Cape Dress